Anastacia (born Anastacia Lyn Newkirk on September 17, 1973)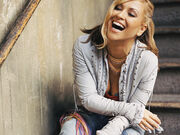 is a multi-platinum and Italian Grammy Award Winner American singer and songwriter. Anastacia has been highly successful in Europe, Latin America, Oceania, Asia, South Africa and Australia but has not had as much success in her native United States. Despite the lack of American success, she has sold over 46 million records worldwide.
Anastacia is best known in Nation Song Contest for her victory in Nation Song Contest 11 when she represented Spila with Left Outside Alone. Later she was an few national finals, but didn't win any although she represented Scorpionia in Nation Song Contest 24. Unfortunately she failed to qualify from semi finals. Anastacia is today extremely popular in in former country Astique.
Ad blocker interference detected!
Wikia is a free-to-use site that makes money from advertising. We have a modified experience for viewers using ad blockers

Wikia is not accessible if you've made further modifications. Remove the custom ad blocker rule(s) and the page will load as expected.