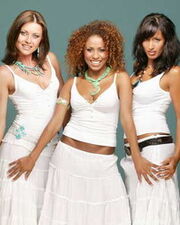 Bellini is a euro house band from the nineties know in Nation Song Contest for their participation in Nation Song Contest 24 for Astique which was country's last participation. Bellini was chosen internally by Astique Radio Television jury as country was prequalified for finals. Song Samba De Janeiro which is band's only success was selected. Bellini ended 14th which was very successful place for Astique. Samba De Janeiro became huge summer hit in Astique.
Ad blocker interference detected!
Wikia is a free-to-use site that makes money from advertising. We have a modified experience for viewers using ad blockers

Wikia is not accessible if you've made further modifications. Remove the custom ad blocker rule(s) and the page will load as expected.