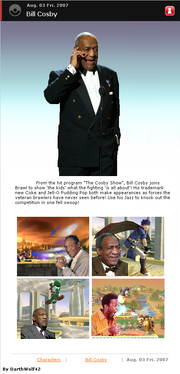 DarthWolf42 is an internet user who created a mix of the main theme from the Wii game Super Smash Bros. Brawl and various sound clips of Bill Cosby imitations, dubbed "Super Cosby Bros. Brawl". This mix was used as the entry of Ugaly in Nation Song Contest 13. It received only 13 points, which weren't all counted because of Lurkovision failing to deliver Ugaly's votes for the semifinal in time. The entry later recieved a nomination in the NSC Awards 2007 for Most Original Song, one of three Ugly entries to recieve such.
Ad blocker interference detected!
Wikia is a free-to-use site that makes money from advertising. We have a modified experience for viewers using ad blockers

Wikia is not accessible if you've made further modifications. Remove the custom ad blocker rule(s) and the page will load as expected.