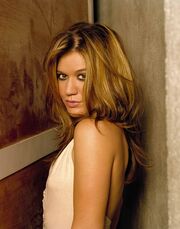 Kelly Clarkson is probably one of the most popular Nation Song Contest artists with 5 participations:
Nation Song Contest 5: Kelly's first participation in NSC with song Breakaway. She was sent by Gabriel and she ended 7th with 67 points.
Nation Song Contest 8: This time Kelly was sent by Astoria and she actually won the NSC with song Behind These Hazel Eyes.
Nation Song Contest 13: This time Doklea decided to send Kelly with her Idol song A Moment Like This ending 4th with 138 points.
Nation Song Contest 14: After 3 successful participations Kelly went to NSC once again with song Because Of You representing Astique. She ended 4th again with 137 points.
Nation Song Contest 34: Kelly Clarkson returns with Swelatie. My Life Would Suck Without You ends on 1st place with 183 points, making Kelly one of only two artists ever to win NSC twice, the other being Sharon den Adel of Within Temptation.
Kelly was also in Astique's Congratulations National Finals with song Never Again, but ended 2nd behind Sophie Ellis-Bextor. She took part in Congratulations 2.0 spin off representing Doklea with A Moment Like This.
Ad blocker interference detected!
Wikia is a free-to-use site that makes money from advertising. We have a modified experience for viewers using ad blockers

Wikia is not accessible if you've made further modifications. Remove the custom ad blocker rule(s) and the page will load as expected.