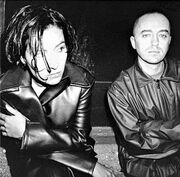 Mono was a British pop duo, featuring Siobhan de Maré on vocals and Martin Virgo on synthesizers. They participated for Ugaly in the Nation Song Contest 6 semifinal with their one-hit wonder "Life in Mono", which ended up at 17:th place, 18 points short of qualifying.
Ad blocker interference detected!
Wikia is a free-to-use site that makes money from advertising. We have a modified experience for viewers using ad blockers

Wikia is not accessible if you've made further modifications. Remove the custom ad blocker rule(s) and the page will load as expected.