The Anthem Spin-off was a Spinoff contest in which all nations, part of the NSC World, chose a particular country anthem from around the world. There were also nations which submitted a self-made anthem which were Ugaly, Maccha-Brugia, Effiland, Reym-L-Dneurb and Noizeland. The show was hosted in Vorhota.
Participants
Edit
Tie-breakers:
Scoreboard
Edit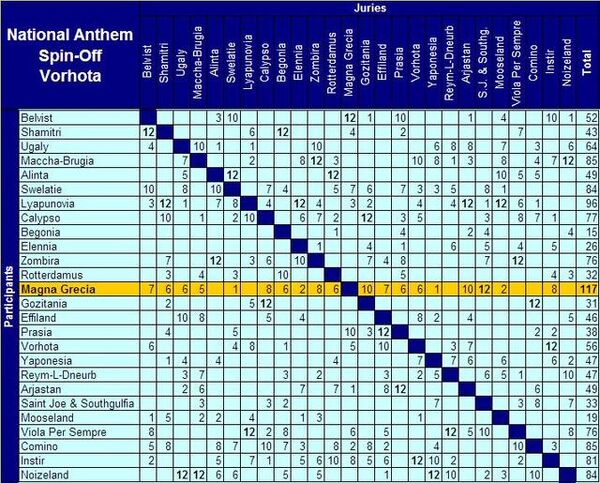 Final Results
Edit
Controversy
Edit
The concept of the contest was critized before the show and it lead to the withdrawal of Adamsburg, Astique and Spila.
After the results show Elennia announced its withdrawal citing political voting.
Ad blocker interference detected!
Wikia is a free-to-use site that makes money from advertising. We have a modified experience for viewers using ad blockers

Wikia is not accessible if you've made further modifications. Remove the custom ad blocker rule(s) and the page will load as expected.