Nation Song Contest 12
Semifinal Date
30 September 2007
Final Date
15 October 2007
Host broadcaster
Spilian TV
Venue
Carine City, Spila
Winning song
Mylène Farmer - C'est une belle journée (Vorhota)
Voting system
Each country awards 1-8, 10, and 12 points to their 10 favorite songs.
Number of countries
42
Debuting countries
Elennia, Viola Per Sempre
Returning countries
Halito, Luniana, Streets ET
Withdrawing countries
Ametan, Blondania, Bokia, Mountbatten Island, Prasia
Null points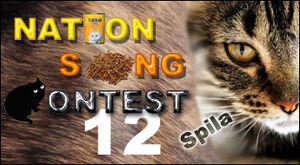 Microstate Qualification for NSC 12.
Semi Final
Edit
Participants in the semifinal
Edit
Participants In The Final
Edit
Winning song
Edit
Vorhota
Mylène Farmer - C'est Une Belle Journée
Ad blocker interference detected!
Wikia is a free-to-use site that makes money from advertising. We have a modified experience for viewers using ad blockers

Wikia is not accessible if you've made further modifications. Remove the custom ad blocker rule(s) and the page will load as expected.