Nation Song Contest 3
Date
April 1, 2007 -
April 22, 2007
Host
Escotia
Venue
Kerkavo, Escotia
Winner
Arjastan - Tata Young - Sexy, Naughty, Bitchy
Voting system
Each country awards 1-8, 10 and 12 points to their 10 favourite songs.
Entries
19
Debuting nations
Astoria
Bokia
Giggshood
Magna Grecia
Saksjaowie
Venera
Returning nations
None
Withdrawing nations
Lost Isle
Medina
Nul points
None
Confirmation
April 1, 2007 -
April 8, 2007
Final voting
April 12, 2007 -
April 21, 2007
Final results
April 22, 2007
Nation Song Contest
◄ NSC 2        NSC 4 ►

The third edition of the Nation Song Contest was held in Kerkavo, the capital city of Escotia. 19 countries took part, which was a record at the time.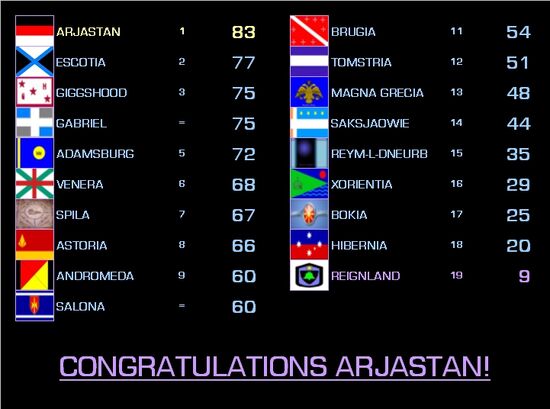 Voting table
Edit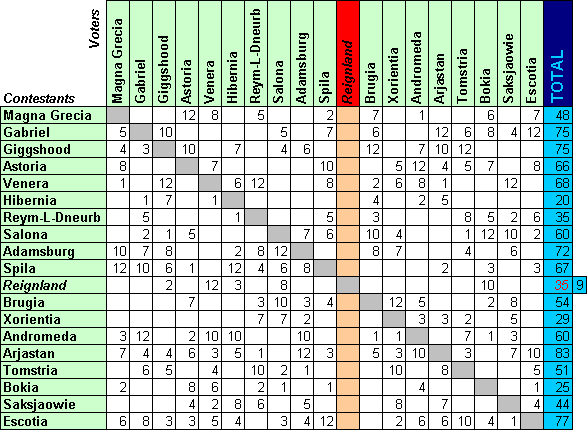 Reignland failed to deliver their votes in time, leading to a 75% reduction to 8.75 points, rounded upwards to 9.
Forum links
Edit
Winning song
Edit
Arjastan
Tata Young – Sexy, Naughty, Bitchy
Ad blocker interference detected!
Wikia is a free-to-use site that makes money from advertising. We have a modified experience for viewers using ad blockers

Wikia is not accessible if you've made further modifications. Remove the custom ad blocker rule(s) and the page will load as expected.