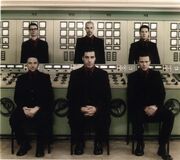 Rammstein is a German industrial metal band. They participated for Ugaly in Nation Song Contest 4, the nation's very first attempt, with the song "Morgenstern", ending up at last place. Rammstein has since been seen participating as representatives of Spila and Viola Per Sempre in NSC 34 and 48 respectively.
Ad blocker interference detected!
Wikia is a free-to-use site that makes money from advertising. We have a modified experience for viewers using ad blockers

Wikia is not accessible if you've made further modifications. Remove the custom ad blocker rule(s) and the page will load as expected.