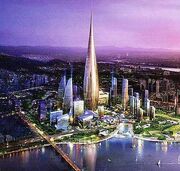 Skvalleria is the capital of Serenate & Clair. It's located in the Gagalandia region. You can see the big palace there which is in picture. The queen of Serenate & Clair, the mother monster of every little monsters Lady Gaga lives there. That place is one of the most famous and wonderful things of universe. The walls of Gaga's palace made by special Sereclarish crystals which was came from G.O.A.T. And other parts of palace are so special and safe. Old Sereclarish people made it 1000 years ago, and it's still alive. All the Monster family lived there. This palace named Crystal Millenium. It's located in the most famous Sereclarish street called Rockefeller Street. By the way, this magical city Skvalleria hosted NSC 58!
Ad blocker interference detected!
Wikia is a free-to-use site that makes money from advertising. We have a modified experience for viewers using ad blockers

Wikia is not accessible if you've made further modifications. Remove the custom ad blocker rule(s) and the page will load as expected.