Waiting List Song Contest 5
Date
9 August 2011 - 22 August 2011
Host
Paperland
Venue
Filefold City, Paperland
Winner
Eterland - Christina Perri - Jar Of Hearts
Voting system
Each country awards 12, 10, 8-1 points to their 10 favourite songs.
Entries
17
Debuting nations
Gringotts
Territrius
Returning nations
Eterland
Withdrawing nations
Carpatina
Nul points
None
Confirmation
9 August 2011 - 15 August 2011
Final voting
15 August 2011 - 22 August 2011
Final results
22 August 2011
Nation Song Contest
◄ WLSC 4        WLSC 6 ►
Waiting List Song Contest 5 was the fifth edition of the Waiting List Song Contest and was hosted in Filefold City, Paperland, after they won the fourth edition of the contest. It was the biggest to date, with 17 entries.
Scoreboard
Edit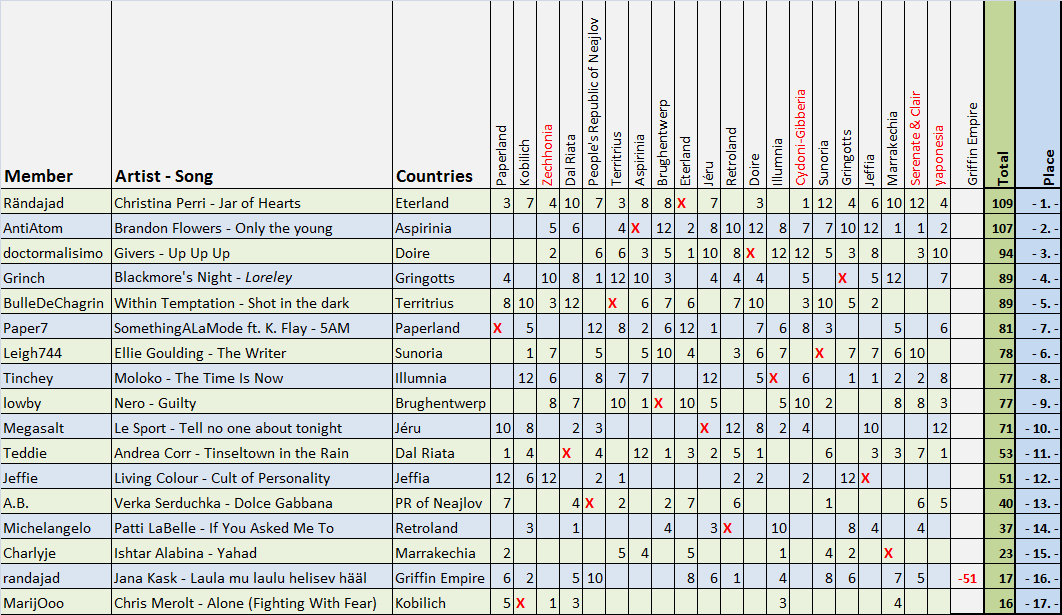 Ad blocker interference detected!
Wikia is a free-to-use site that makes money from advertising. We have a modified experience for viewers using ad blockers

Wikia is not accessible if you've made further modifications. Remove the custom ad blocker rule(s) and the page will load as expected.